Corporate Events
Want to enjoy a casual atmosphere with a competitive game where having fun is the top priority? Want to make sure your event is problem free and effortless? Hiring a corporate golf event concierge is the way to go!
Meet Beth Bares. Your 30-year event planning veteran and sports enthusiast that will cater to all of your corporate golf event needs. Beth puts together the most creative and engaging events in the Gulf South, and she is the ONLY event planner that will customize your day from start to finish. Below are the details on how we can plan your fun gathering.
A Hole In One
We all enjoy a sunny day on a championship course, but that isn't even the best benefit! Quality time. Networking. Conversation. All of this leads to strong relationships and the occasional business deal as you share the course throughout the day.
Beyond the talk about worm burners, hook shots, and who the team lumberjack is, corporate golf events give clients and employees extended one-on-one time to build loyalty that could last a lifetime. Looking to make it even more memorable? Ask Beth, our golf concierge, for ideas! She always goes above and beyond for her clients, including services such as:
Hiring special cuisine restaurants to serve custom dishes
Creating one-of-a-kind drinks for your company
Contests on the course
Player gifts are a must
Networking
Booking with Beth takes your event from ordinary to extraordinary! Whether you want your round of golf to be like a relaxed, four-hour sales call, or you want a captivating tournament with games and prizes throughout, Beth at Your Golf Event is the golf concierge for you.
Other client networking opportunities can feel forced and get old fast, but golf is a brand-new game every time you tee up. No matter if you squeeze in a quick nine holes or a full round of golf, there is a lot of opportunity for quality conversation with your new or potential clients.
Team building
Ready to create the most engaging event your team has ever attended? We can help! When you set up a corporate golf event for team building, you are moving your employees and clients out of their everyday work world and into a place where they have fresh air, food, drinks, and our golf concierge that will customize your experience through and through. Need custom prizes? No problem! The ideas are endless, and our experienced event planner will work within your budget and your goals.
Plus, even if your entire group can't find the cup when they are standing right over it, non-golfers still benefit from time spent on the links. Learning new skills together deepens interpersonal relationships!
Attending a Convention?
Our consultative services for planning a day of golf are a great compliment for any company attending local conventions here in the greater New Orleans region. We partner closely with DMC's to make a day on the green an easy option for convention attendees. And we'll customize your day around all skill levels to ensure everyone has a good time.
We're Under Par On Planning
Corporate golf events in Louisiana and the greater Gulf South can range from a regularly scheduled round on the local executive course to a multi-day tournament with players from all over the region.
Regardless of scope or size, Your Golf Event can help you from the first tee to the 19th hole.
We'll help you with your corporate golf event from planning to execution. This may include setting up your registration page, signing up golfers, and running your event. Your Golf Event is your one-stop for planning when you set up your corporate event. Our certified tournament consultant will help you decide what format works best for your team, then help to execute your plan to perfection.
Learn even more about what we do in our FAQs!
Let's Talk Golf 
Whether the purpose of your corporate golf event is client networking or team building, we can help make it a success. Your Golf Event has 30 years of experience in the golf industry, and we know how to organize corporate golf events that your team talks about for years to come.
If you've tried other events that have fallen short, here's your chance for a mulligan. Get in touch, and let's talk golf!
---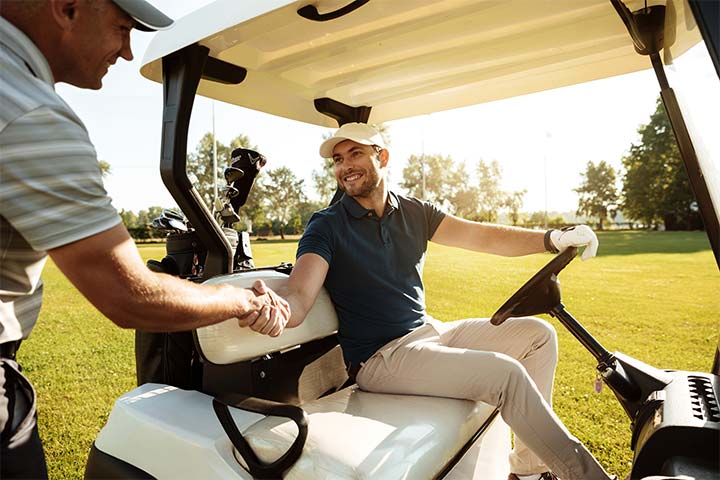 Your business relationships are crucial to your success.  Why not build or strengthen those relationships during a corporate outing?
Golf allows you quality time with your clients.  Whether it's 9 holes or a full round.

You don't have to play like a pro to make a good impression.

Building loyalty with your clients goes a long way.

Grow your relationships on the golf course – think of it like a six hour sales call.
---
Take your event to the next level!